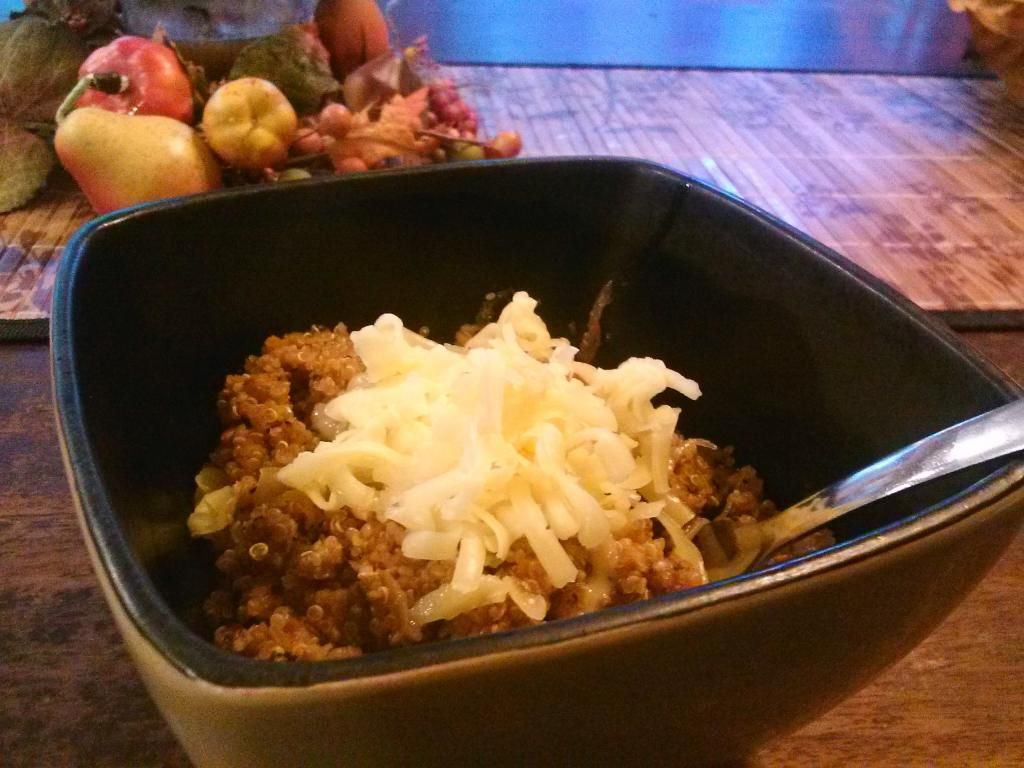 I usually make jambalaya with rice.  But I didn't have rice and I had some beautiful chicken broth simmering in my crockpot begging to be made into jambalaya.  So I decided to make jambalaya with quinoa.  Yum! 
So you'll need some sweet peppers.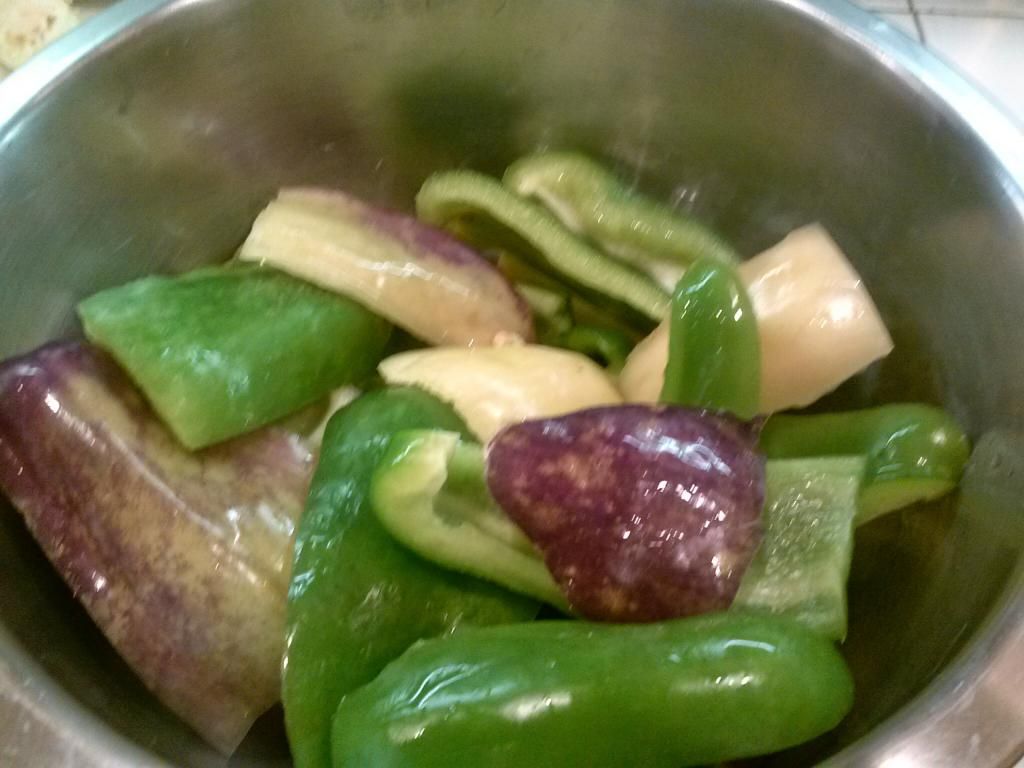 Some celery.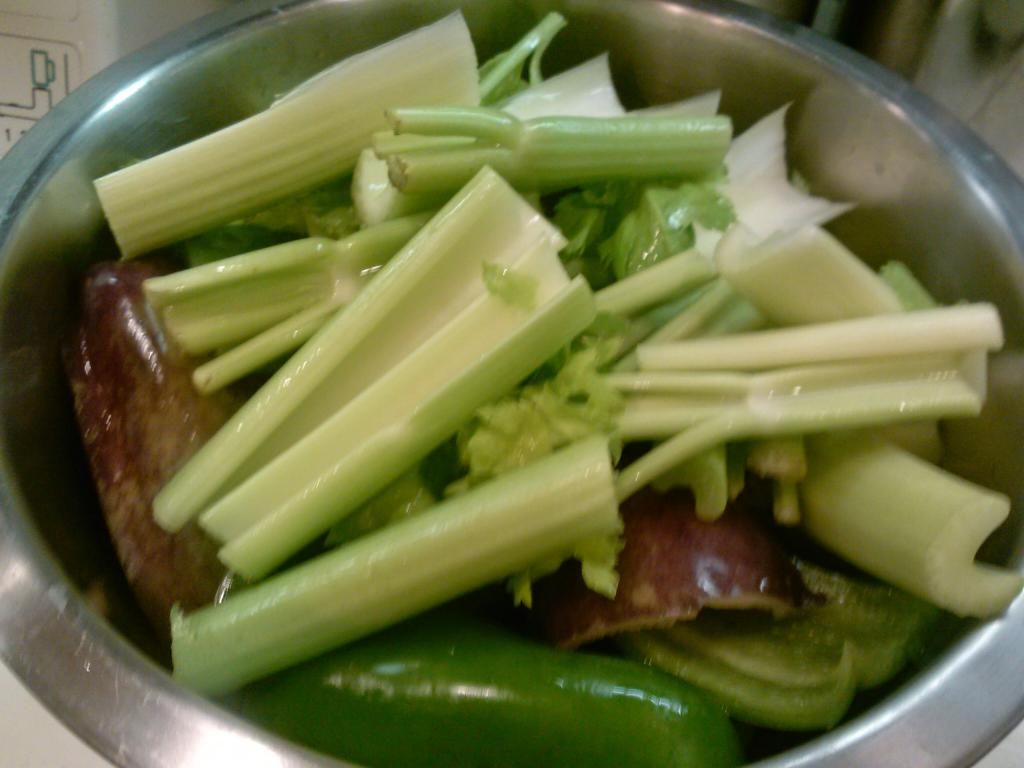 Some garlic. 
Imagine this is a photo of garlic. Thank you.
Some onions.  Normally I'd use fresh onions but we are low on onions right now (bad year) so I have onions frozen from the great cooler disaster of 2012 and they'll do just fine in this recipe. 
You'll want to chop everything up somewhat finely.  With a crazy toddler helping me out I had no time for chopping veggies so I just pulsed them in my food processor.  Much faster.  By the way, I highly recommend you procure a crazy toddler to help you make this dish.  I can't vouch for the results otherwise.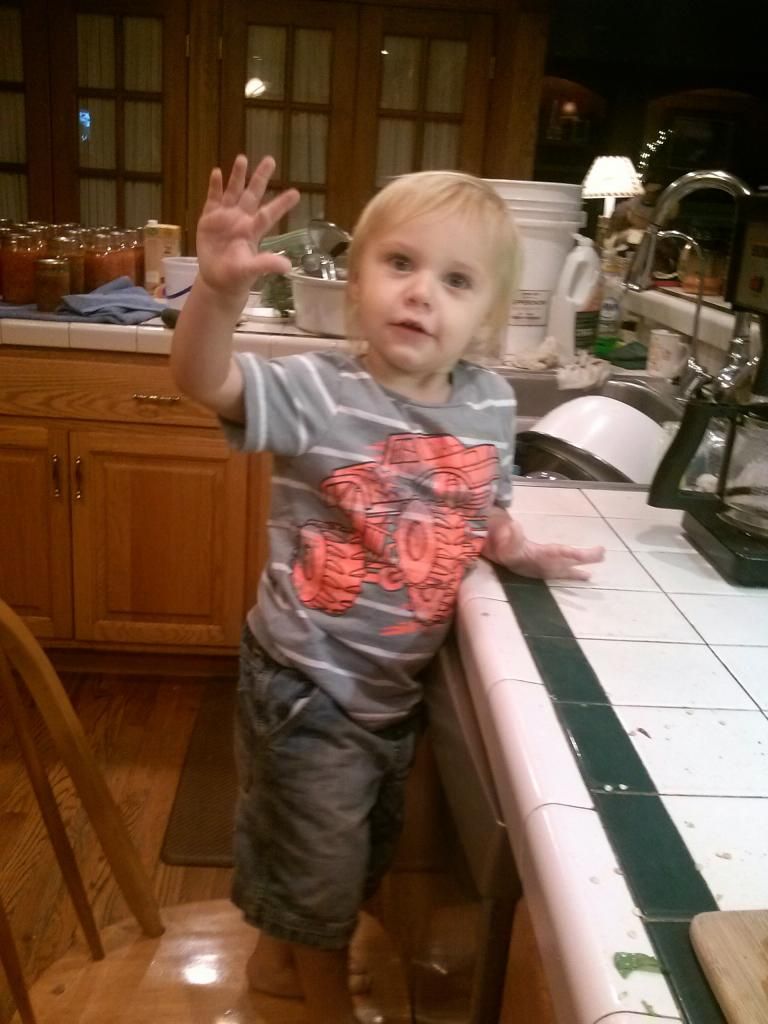 Crazy Toddler.  Please imagine my kitchen is perfectly clean.  Thank you.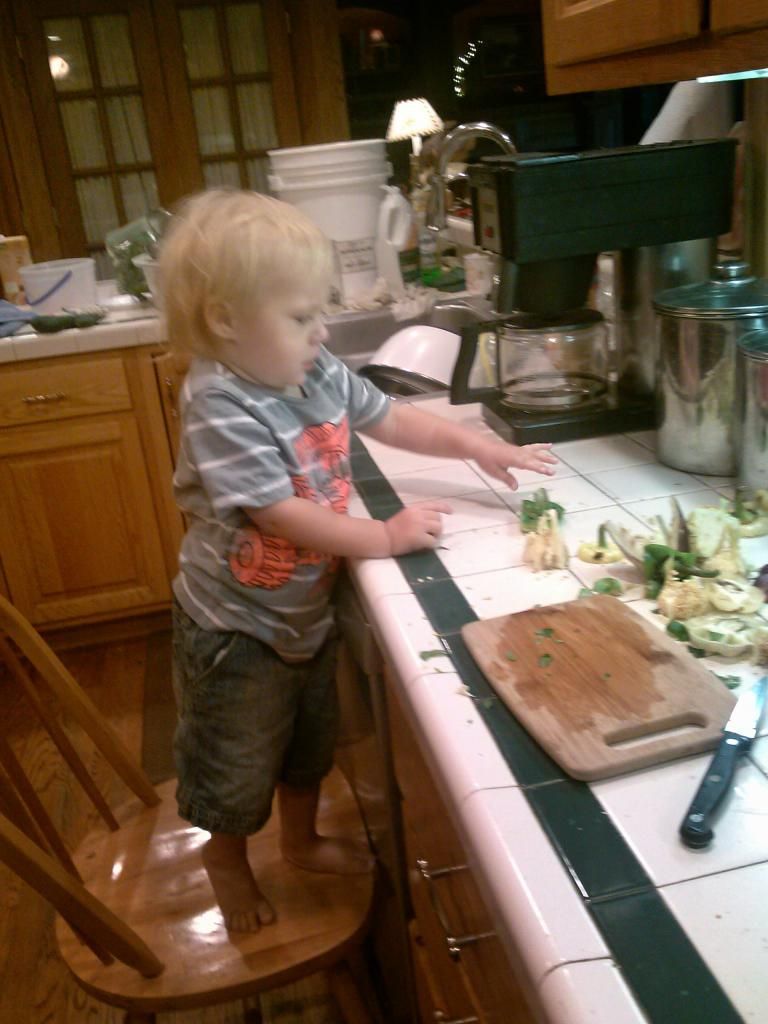 My little chef. 
So after you've chopped the veggies or, if you're especially talented, while you're chopping the veggies you can start toasting the quinoa. 
Now.  Here is how I did it.  I put two glorious tablespoonfuls (ish) of grass fed butter into a skillet along with two cups of dry quinoa and toasted it on medium until it was a bit browned and had a delightfully nutty sort of popcornish smell.  And it made the coolest popping sound.  I'm thinking maybe five minutes was all it took but you'll want to go by sight and smell here so you don't burn it.  Later I looked up toasting quinoa because normally you're supposed to rinse the stuff first but I figured that wouldn't work well for toasting so I didn't.  And (can you keep a secret?) I don't always rinse my quinoa.  I know.  I'm lazy.  Really I should be soaking it and then rinsing it but I never do that.  So I'm like a failure at proper quinoa cooking.  Just keeping it real.  Anyway.  In my research it says to soak, rinse, and then throw the wet quinoa in a skillet and it will dry out and then you just dry toast it without adding fat.  But what's the fun in no fat, right?  So maybe next time I'll soak, rinse, dry in the skillet, add my glorious butter, and toast.  Or maybe I'll be lazy again.  We'll see.  At any rate you'll want to toast the quinoa in two cup batches or less depending on the size of your skillet.
Transfer your toasted quinoa to your pot.  Melt another glorious tablespoonful or two of butter in your skillet and saute the "trinity" (apparently Louisianans call onions, peppers, and celery the trinity).  Disclaimer: I know nothing about Louisianan cooking except for what I've read on the Gumbo Pages blog which is where my inspiration for this recipe came from.  If you'd like to read and follow the original recipe it can be found here - Jambalaya!  I have to be honest right now and say that I have never actually followed his recipes to the letter but they still turn out wonderfully yummy so I can only imagine how amazing it would be if I actually did what I was supposed to!  I love his recipes because he uses real food and tells you to make your own stock.  Plus his last name is Taggart which is just cool. 
Anyway, saute the finely chopped garlic, onions, celery, and peppers and add them to your pot.  Throw in some beautiful chicken broth and some canned tomatoes along with some bay leaves and creole seasoning.  Oh hey and while we're keeping it real I only used half the amount of homemade chicken stock and made up the rest with beef broth and (horror!) store bought.  And the sky didn't fall.  But you should do as I say not as I do.  Okay?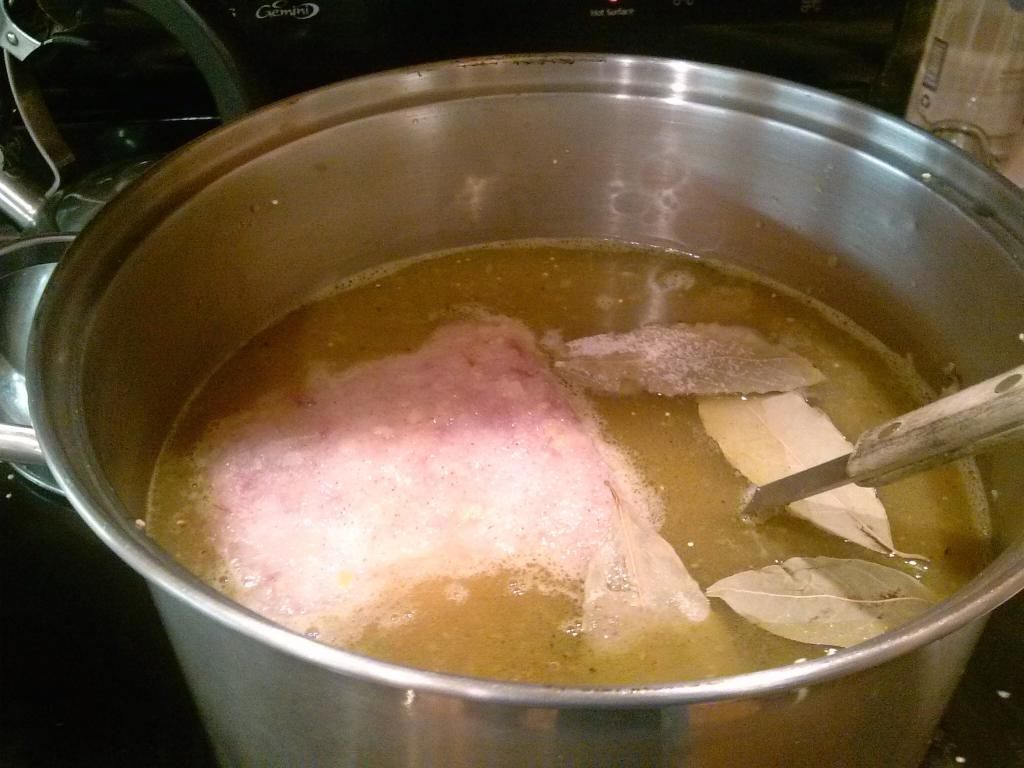 That weird looking block in the pot is my chunk of frozen onions just in case you were wondering.  Oh and if you had meat from making the chicken stock you should throw it in the pot too.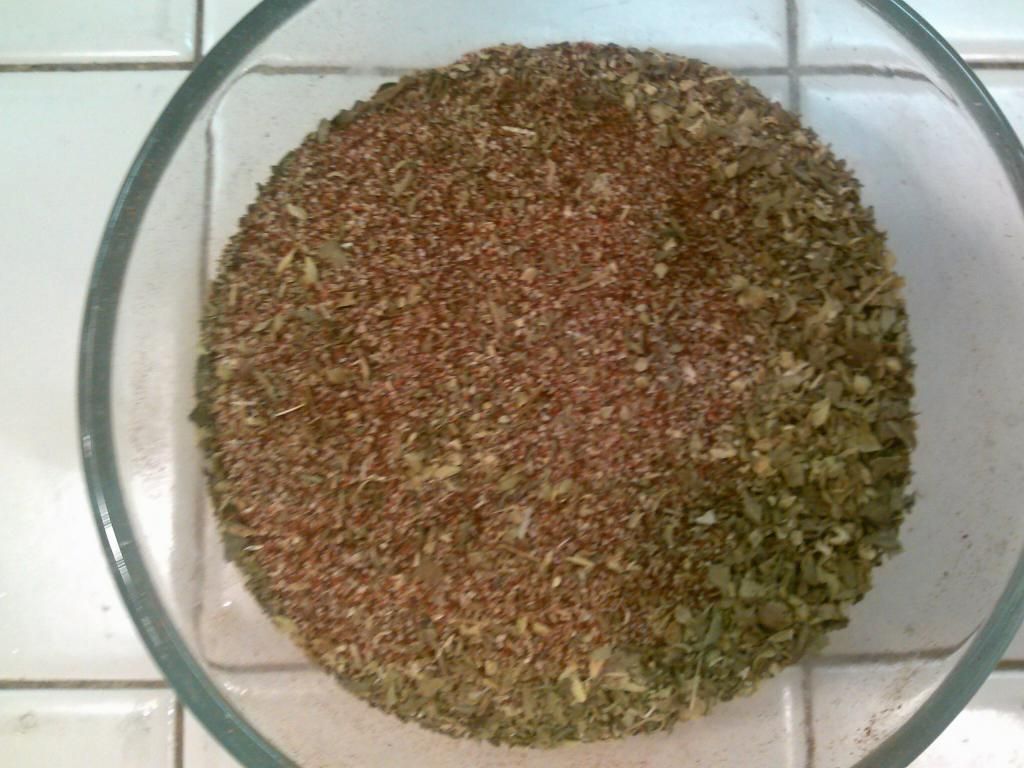 Creole Seasoning.  I use Chuck's which you can find here - Creole Seasoning Blend only I omit the cayenne and add a tiny bit to the whole pot and then add a lot more to my own bowl.  If everyone in your house can tolerate the same amount of heat then you can just play around with it until you come up with the right amount for your family.  Also I rarely have white pepper so I usually leave that out too.  And the sky doesn't fall! 
So you'll simmer the quinoa in the broth until all the liquid is absorbed and serve it hot with some hot sauce and maybe some shredded cheese!  Sauerkraut is yummy with it too in my opinon but let's be honest here.  I eat sauerkraut and hot sauce with my oatmeal for breakfast so my judgment cannot be trusted.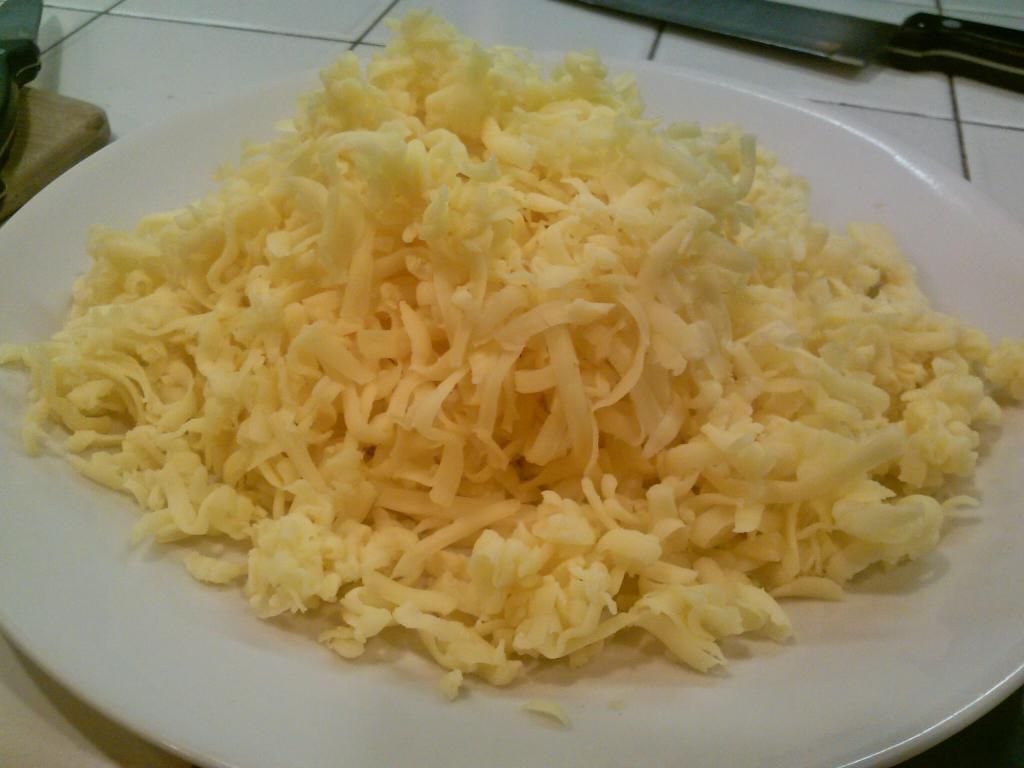 A photo of shredded cheese.  This is Gouda from Sunset Acres which is Jadyn's absolute favorite cheese in the world.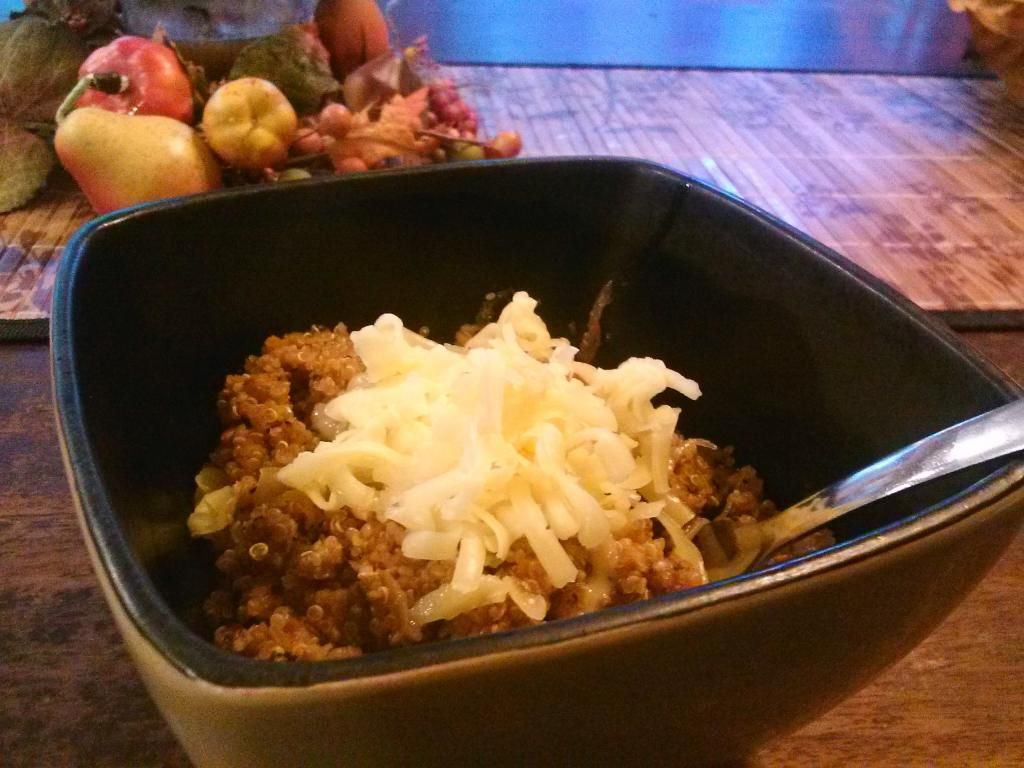 Enjoy!
Quinoa Jambalaya
4 organic sweet peppers, finely chopped
1 large organic onion, finely chopped
4 ribs organic celery, finely chopped
6 cloves organic garlic, finely chopped
6 or so Tablespoons grass fed butter, divided
4 cups organic quinoa
8 cups chicken stock (make your own from a locally raised chicken, preferably organic)
Meat from making the chicken stock if you haven't already used it for something else
1 quart organic crushed tomatoes
3-6 Tablespoons Creole Seasoning Blend or to taste
2 organic bay leaves
Good quality salt to taste (celtic, himalayan, real, etc.,)
Soak and rinse the quinoa.  Heat a skillet on medium and add half the quinoa to the pan.  When the quinoa is dried out a bit add a couple tablespoons of the butter and toast the quinoa until brown and nutty, about five minutes or so.  Transfer the toasted quinoa to a stock pot and toast the other half of the quinoa in a couple more tablespoons of butter.  Saute the onions, peppers, celery, and garlic in the remaining butter and transfer the veggies to the stock pot.  Throw the meat, if you have it, into the pot as well.  Add the chicken stock, tomatoes, and seasonings to the pot and bring to a light boil.  Check and adjust the seasonings as needed.  Simmer the jambalaya until the quinoa has fully absorbed all the liquid.  Serve with shredded cheese, hot sauce, sauerkraut, and a sprinkle of cayenne if desired.