Cottage Cheese is super yummy and really not as intimidating as it looks to make.  I'm probably the only one that gets intimidated about cheese - right?  Well I've been making cottage cheese over a year now and have tweaked my process enough that I declare it pretty much perfect and feel ready to share it with the world!
  My process is a combination of a few different recipes and really easy.  Plus I'm going to take you step by step - with pictures even - so don't fear.  I would appreciate it if you would excuse my cruddy photography.  I do apologize for subjecting you to it.  Okay, enough talk.  Let's make some cheese!
You'll need:
A gallon of milk - I use raw but any non-homogenized milk will do.  Elbert's on Virgina in Evansville carries local non-homogenized milk if you are not fortunate enough to have your own cow or be part of a dairy share program.  <--- Shameless plug. ;-)
1/2 C. mesophilic yogurt culture such as Matsoni (optional)
8 drops liquid rennet or 4 drops if using double strength rennet dissolved in about 1/4 C. lukewarm water
A large stainless steel pot or other non-reactive cookware
A thermometer
A wooden or stainless steel spoon
A knife long enough to reach the bottom of the pot
A colander
Cheesecloth (the good stuff, not the kind you find commonly in stores) or I often use a piece of a cotton sheet when all my cheeseclothes are dirty
Real salt or Celtic salt (optional)
The process:
First, skim the cream off the top of the milk.  I use a small gravy ladle for this job.  No worries if you don't get all the cream.  Reserve the cream.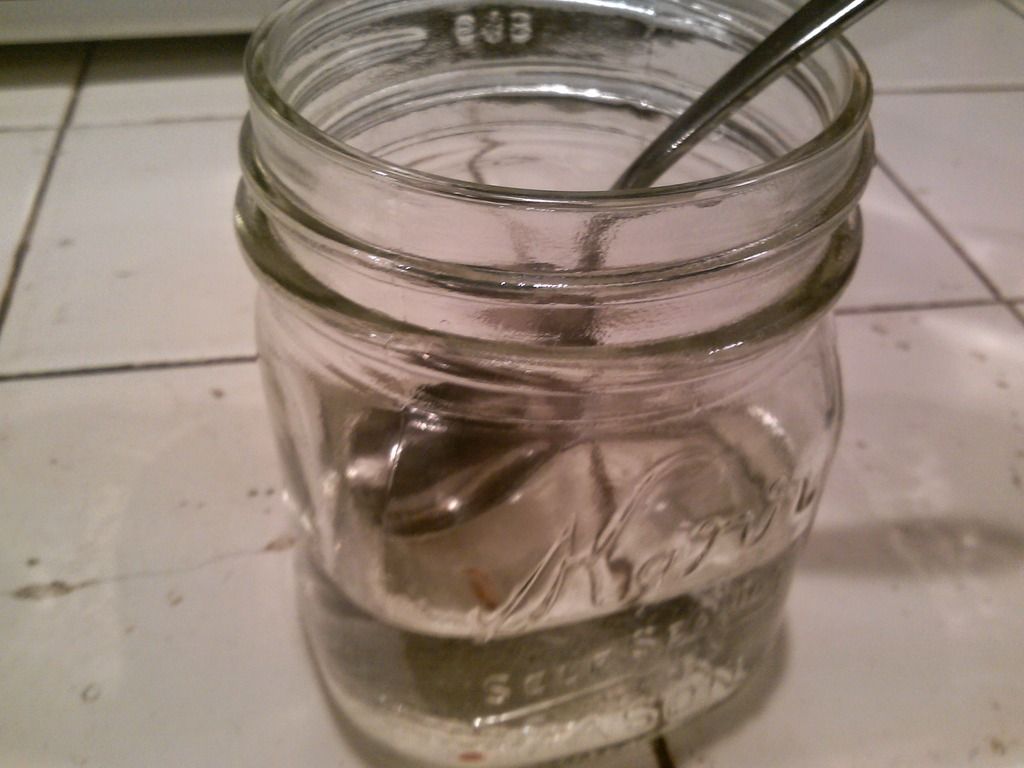 Dissolve the rennet in the water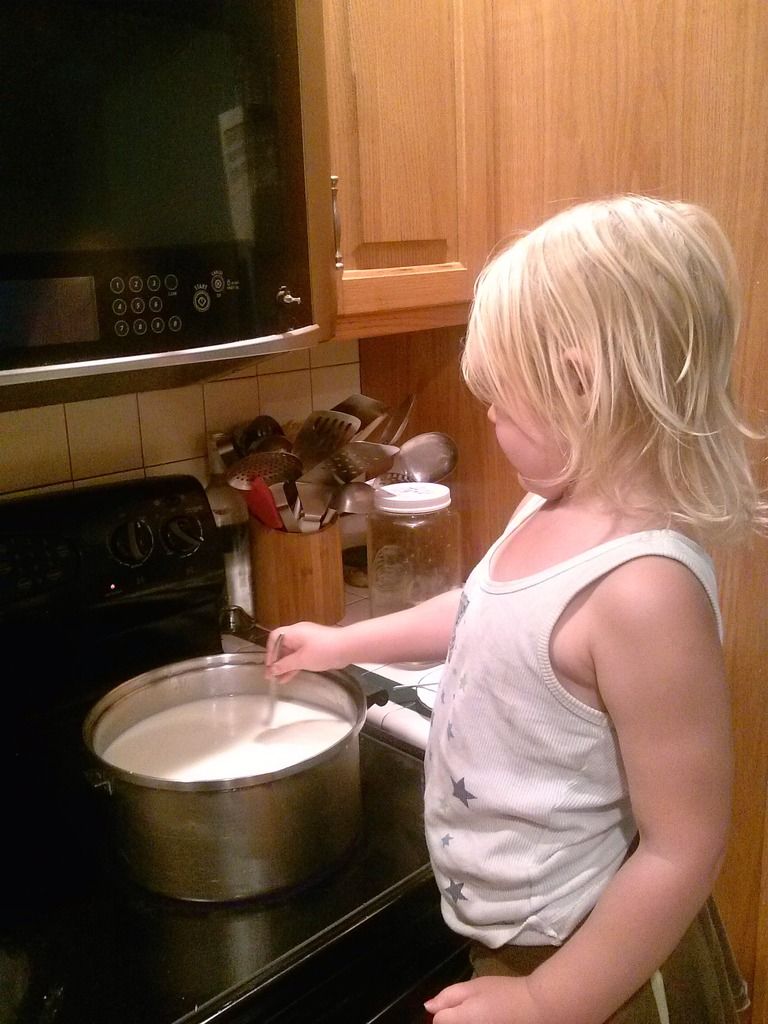 Pour the milk into the large pot and gently warm to 70 degrees if culturing or a temperature between 70 and 90 degrees if you're not adding a culture.  I prefer cultured cottage cheese.  The flavor is out of this world and you have the added benefit of more probiotics.  But if you don't have a mesophilic culture you can just make regular cottage cheese and it still tastes phenomenal.  If you'd like to try a mesophilic (countertop) yogurt culture I'll put information at the bottom of this tutorial on where to procure them.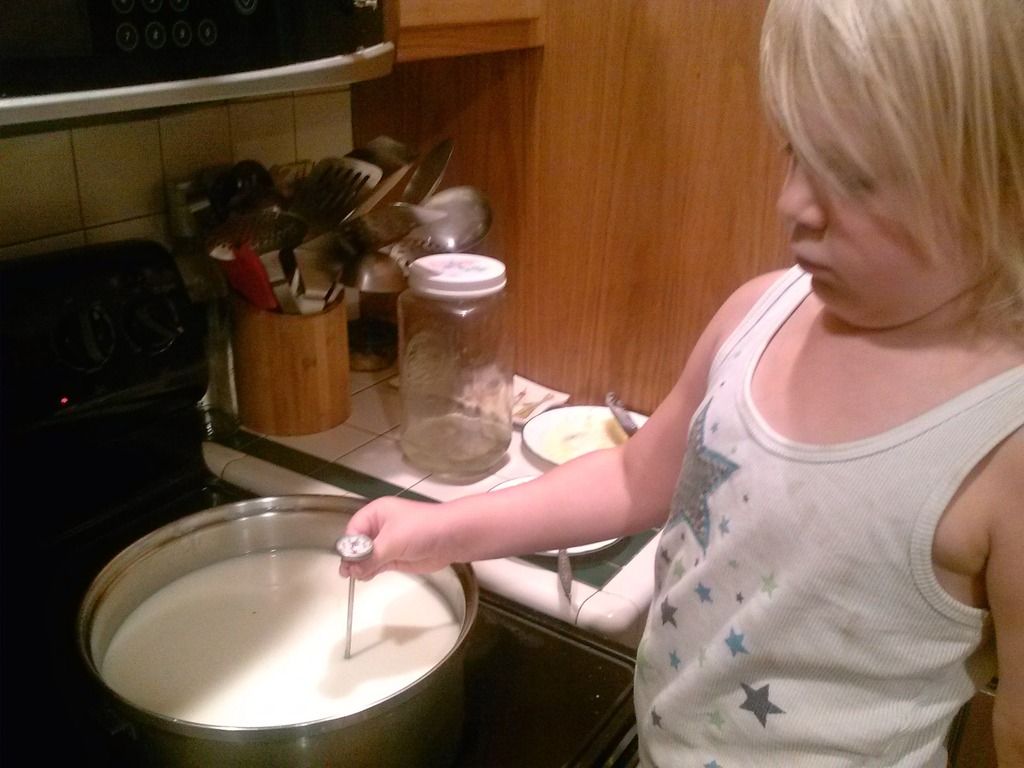 The temperature doesn't have to be super precise but you'll want to make sure you don't get too close to 80 degrees if you're adding a culture because you'll run the risk of killing the bacteria.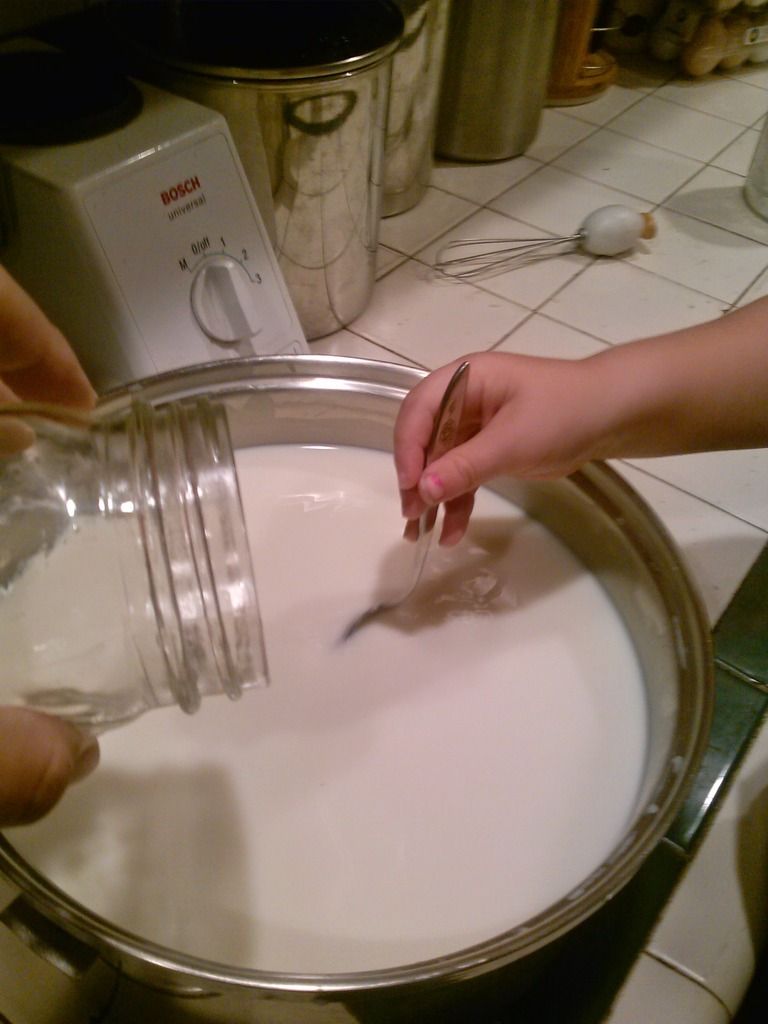 Once your milk is warmed you'll remove it from the stove and gently stir in the culture if using as well as the rennet.  Cover and allow to sit five hours at room temperature.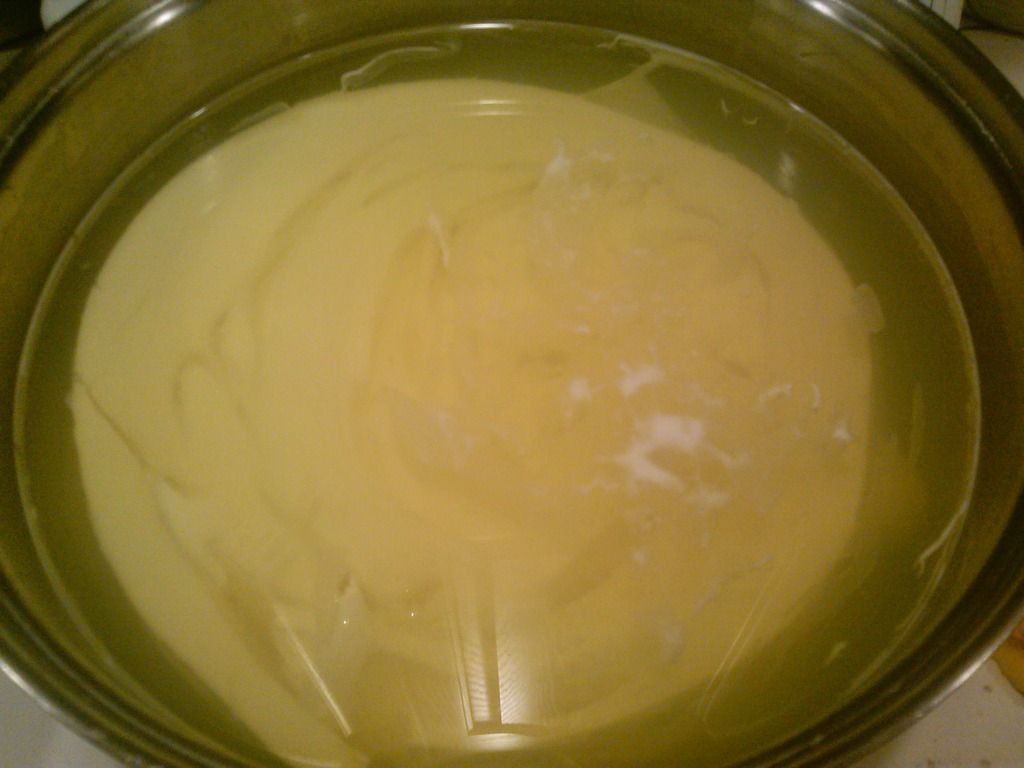 After five hours the milk should have formed a mass - pulling away from the sides of the pan - with a layer of yellowish whey on top.
With the long knife cut the curd.  You're going to make four sets of cuts - each of them about a half inch in width.  The first set will be vertical cuts from the top of the pot to the bottom each about 1/2 inch apart, the second set will be horizontal 1/2 inch apart, the next will be diagonal cuts from the upper right hand corner to the lower left hand corner, and the last will be diagonal from the upper left hand corner to the lower right hand corner.  Yes I know round pots don't have corners but hopfully you get what I'm trying to convey here.  And really it doesn't matter which order you make the cuts, that's just how I do it.  You can totally be a rebel.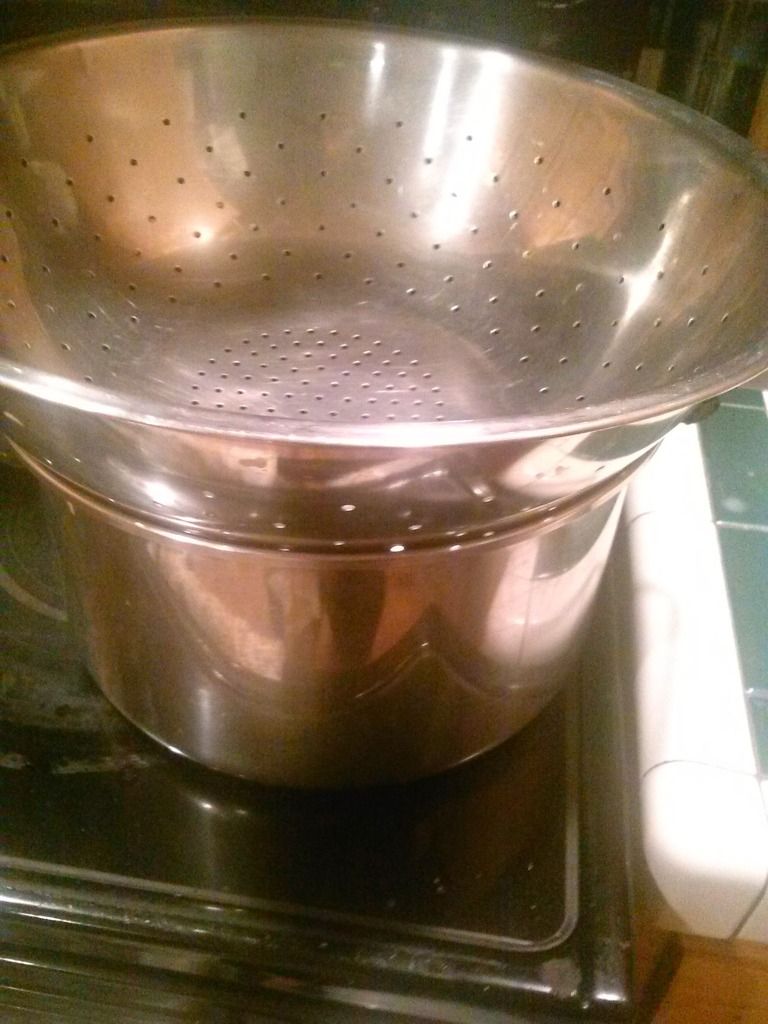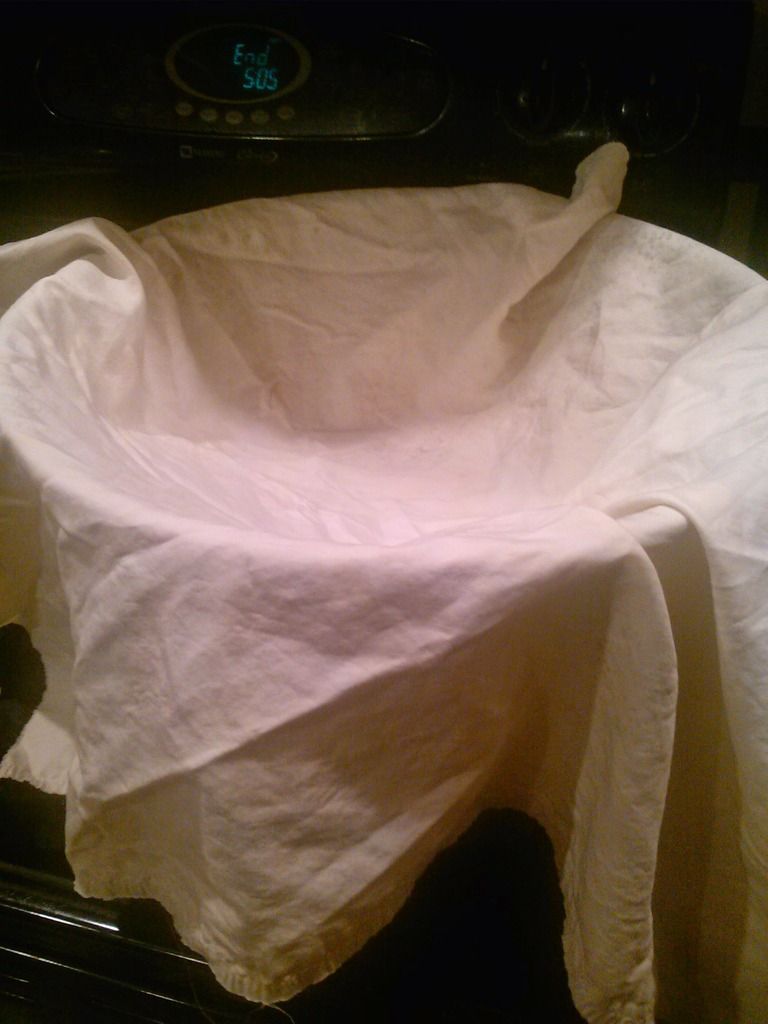 You're going to want to line a colander with your cloth and it can be placed in the sink if you want to discard the whey or put it over another pot if you want to keep it.  Ricotta can be made from the whey or you can use it for soaking grains or fermenting.  Chickens also enjoy it.
Gently spoon the curds out into the colander.  The whey will begin to drain away immediately but you'll want to gently stir the curds over the course of the next hour.  I stir every fifteen minutes.  You're looking for a firm consistency but not hard.
After about an hour you'll spoon out your cottage cheese into jars or a bowl and add back some of the cream to taste.  You can also salt the cottage cheese at this time to taste.  I leave mine unsalted for more versatility.  Cottage cheese makes an amazing "ice cream" if you stick it in a blender or food processor with some frozen fruit and maybe a little honey, maple syrup, or stevia.  Oh my.  Anyway.  Stick the cottage cheese in the refrigerator if you can manage to not eat it all at once.  And hide it from the kids or you won't get any.  I know this from experience.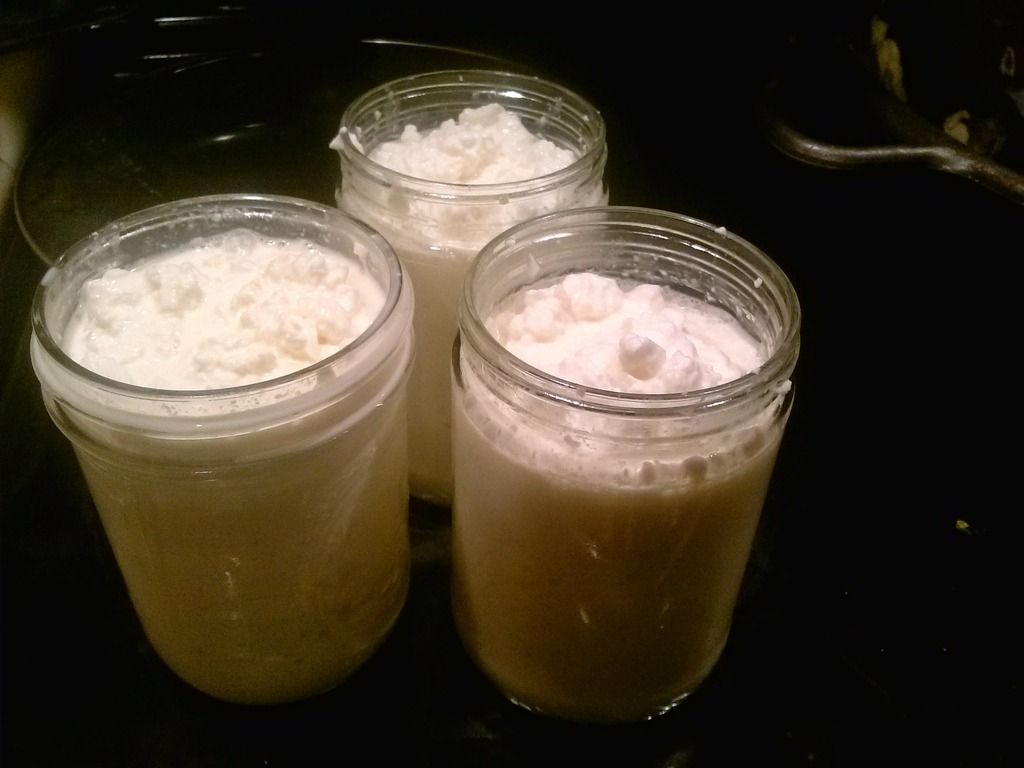 So that's it, friends.  Raw Cottage Cheese.  *fanfare*
Cheesemaking supplies and mesophilic yogurt starters can be purchased from culturesforhealth.com  There is also a lady locally that sells starters way cheaper than you can find online.  You can contact Krystal at dayglostars@aol.com